Here's another of my organic personal hygiene products.  Most of them are super easy to make.  I continue to find it incredibly rewarding to make my own products and know their exact ingredients.
My Green-Living guru friend, Joanna Greenfield, advised me to keep it simple.  Most recipe books, she says, overcomplicate things to make you feel like it was worth the cost of the book.  Even my recipe has more ingredients than are necessary.  Here's the basics—filtered water, sea salt and essential oils to taste.
The main essential oils I use for taste are Peppermint, Anise and Ginger—just LOVE them!  You can use whatever essential oils appeal to you.  You'll notice from the list bellow they also have incredible health benefits. To this I add a little Tea Tree Oil and Neem Oil because of their particular benefits to oral health, (but I'm less fan of the taste).  All essential oils are anti-viral, -bacterial and -fungal, so they are really the key ingredient (no alcohol required).  The Sea salt helps heal cuts, provides minerals and increases alkalinity of the water's  pH.
Just like any mouth wash: shake before using and gargle, swish and spit it out!
Have a great time experimenting with this one.
Essential Oil Mouth Wash Ingredients
Mason Jar (or old mouthwash bottle—adjust recipe accordingly)
Filtered, Distilled or Reverse-osmosis Water
Sea Salt – a healthy pinch
Baking Soda – a small pinch (optional)
Peppermint Essential Oil – 10 to 15 drops
Anise Essential Oil – 10 to 15 drops
Ginger Essential Oil – 5 drops
Neem Essential Oil – 5 drops
Tea Tree Essential Oil – 5 drops
Note:  If you use a conventional mason jar the lid may rust.  Use a jar with a plastic lid.
Here's some info about a few of the health benefits of the oils I use.
Neem Oil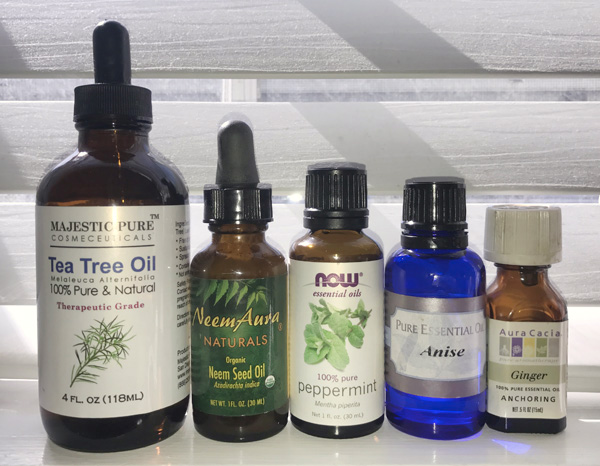 Neem and especially Neem Oil is an amazing gift from nature that has been used in Indian and Asian remedies for millennia. It offers unbeaten, medically proven health and beauty benefits. Neem oil is used as a main ingredient in many skin and hair care cosmetics.
Loaded with nutrients, Neem Oil is used in natural skin care products because it contains high levels of antioxidants that help protect the skin from environmental damage. Neem also helps fight free radical damage in the skin because it contains carotenoids, which provide high antioxidant compounds. Since Neem is also especially high in important fatty acids and vitamin E and can quickly penetrate outer layers of skin, it is extremely effective in healing dry and damaged skin.
WARNING:  Do not swallow Neem.  Neem oil use can be dangerous and is not recommended for use by pregnant women or women who are lactating.
Neem Oil Benefits:
Whitens teeth
Promotes healthy gums
Anti-viral, -bacterial & -fungal
Healthy hair & prevents dandruff
Promotes hair growth
Protects skin & fights aging
Fights acne
Relieves eczema
Bug repellent
Also – Spread a few drops on your dental floss and floss as usual for really healthy gums.
Tea Tree Oil
Australian Tea Trees, the main source of Tea Tree Oil, are not trees at all, but rather, green shrubs that grow in the wet coastal regions of Australia.
The light yellow pine-needle-like tea tree oil, Melaleuca, is used mainly in medicine for surgery, burn care, and dental care. It is also used for industrial lubricants and cosmetic products. Other oils that are produced are the harsher, less expensive cajeput (Melaleuca Cajuputi) and the sweeter niaouli (Melaleuca viridiflora), which aromatherapists consider more effective on viral infections such as herpes blisters.
The impressive antiviral, antibacterial, and antifungal properties make tea tree oil useful for a wide range of conditions. It is used in the treatment of candida and all sorts of infections, ringworm, sunburn, acne, athlete's foot, toothaches, and gum disease.  It seems to be used these days in almost every "natural" dental product: toothpaste, dental floss, dental picks, and mouthwash.
Tea Tree Oil Benefits:
Many herbalists regard it as their first choice disinfectant for external use.
Anti -viral, -bacterial & -fungal
Mouth infections
Plaque prevention
Bad breath
Gum disease
Swollen and sore gum
Toothaches
Mouth sores or canker & cold sores
Peppermint, Anise & Ginger Oils
Peppermint Oil Benefits:
Freshens bad breath
Reduces stomach aches
Soothe digestive issues
Relieves headaches
Antimicrobial properties
Improves mental focus
Clears respiratory tract
Boosts energy
Releases tight muscles
Anise Oil Benefits:
Aids digestion
Heals open wounds
Loosen phlegm
Relieve gas & constipation
Anti-anxiety & insomnia
Antibacterial
Analgesic
Improves blood circulation
Antioxidant
Improves migraine
Ginger Oil Benefits:
Stomach and bowel related problems
Indigestion & nausea
Food poisoning & intestinal infections
Malabsorption
Respiratory problems
Pain
Heart ailments and hypertension
Compromised immunity & respiratory function
Works as an expectorant
Bacterial & fungal infections
Ulcers and GERD
Insect repellent
For some of Joanna Greenfield's Green Living recipes visit her at getgreenwithjoanna.blogspot.com.